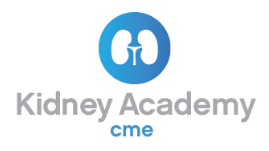 Kidney Academy Table of Contents
MODULE 1. Renal Replacement Therapies Integrated: The Global Perspective
This introductory module includes a global statistical summary of end stage renal disease (ESRD) with a predictive forecast into the future. ESRD is a complex disease state characterized by multidimensional interacting systems in a state of drift, defined as a slow but constant change as time passes. The most striking example of drift over the last decades in the ESRD patient population is the shift from younger patients with kidney specific (often genetic) diseases such as glomerulonephritis and Polycystic Kidney Disease (PCKD) to the elderly patients plagued by diabetes, hypertension, and obesity.
MODULE 2. Physical Examination of Hemodialysis Access
Physical examination (PE) is a basic component of patient care across all fields of medicine. In many instances, physical examination has been replaced by elaborate and costly technical approaches to diagnosis. In the evaluation of hemodialysis (HD) access, PE remains indispensable in diagnosing problems and effective decision-making. It is easily learned, easily performed, inexpensive to apply, and provides instant information with a high degree of accuracy, especially in the cases of native vein fistulas (AVF).
MODULE 3. Dialysis Access Algorithms
Much controversy surrounds the selection of the appropriate renal replacement therapy (RRT), including mode of dialysis, type and site of dialysis access, when to place and when to start dialysis, and who places the access. This module addresses multiple levels of renal replacement therapies (RRTs), specifically regarding selecting the most appropriate mode of therapy, site, and type of dialysis access. The algorithms outlined are designed to be simplistic and practical, derived from a multilayered, complex reality of systems in drift.
MODULE 4. Native Vein Arteriovenous Fistulae for Dialysis Access
There are many options for renal replacement therapy (RRT) determined by patient factors, the access team skills and knowledge, geographic policies and resources, to mention a few. This module outlines basic principles for native vein AVFs. The wrist radio-cephalic anastomosis is described in detail as the surgical techniques are similar for different sites. Atraumatic technique is essential for success to prevent scarring resulting in vascular ischemic injury. Several short videos describe various anastomosis suturing techniques.
MODULE 5. Arteriovenous Grafts for Dialysis
The available options for Vascular Access (VA) for Hemodialysis (HD) are central venous catheters (CVC), arteriovenous fistula (AVF), and arteriovenous grafts (AVG). All options have a place in dialysis access. This module provides a comprehensive and up to date review of arteriovenous grafts used in VA, including the characteristics of different arteriovenous grafts, evaluation of a patient for suitability for AVG and assessment of appropriate anatomical sites, and management of AVG complications.
MODULE 6. Peritoneal Dialysis
Except for a few locales such as Mexico and Hong Kong the peritoneal dialysis (PD) option is globally underutilized. PD preserves residual kidney function, provides improved quality of life, more stable hemodynamics and improved outcome after renal transplantation. PD also offers the patient more freedom and is less costly than HD. This module also provides more than 20 video links of detailed open and laparoscopic catheter placement techniques and a PDF links to publications for the reader desiring expanded knowledge.
MODULE 7. Thoracic Central Vein Obstruction (TCVO)
Thoracic central vein obstruction (TCVO) has become a major problem in dialysis access patients. Central vein catheters for dialysis, PICC lines, and cardiac rhythm and defibrillator leads are contributing to TCVO. This module reports on the current status of TCVO and outlines current treatment options, including various types of HD catheters in relation to the right atrium anatomy and tunneled catheter placement techniques.
MODULE 8. Dialysis Access Steal Syndrome (DASS)
DASS following arteriovenous (AV) access is a potentially devastating complication and occurs in 5-10% of cases when the distal brachial artery is used as inflow, which is 10 times that of wrist arteriovenous fistulas (AVFs) using the distal radial artery. This module reviews the three distinct etiologies of the steal syndrome and outlines eight different treatment options for DASS including prevention strategies.
MODULE 9. Radiation Safety
With the expanding use of endovascular procedures, radiation safety has moved to the forefront of what is required knowledge for healthcare workers in the field of dialysis access. This module describes the basic of radiation physics, the various of imaging equipment used. Doctors and nurses alike must obtain a basic understanding of the radiation hazards and how to maximally protect patients and the healthcare workers around. The purpose of this module is to enable protection of all those involved in procedures utilizing radiation equipment.
Module 10. Aneurysms in Vascular Access
Aneurysm formation in vascular access (VA) is a common problem which can result in serious and devastating complications. The goal in VA is to create a large enough conduit, vein or graft, to facilitate easy and repeated cannulation. As this is the aim, it also means that some native vein fistulae will become abnormally dilated and constitute an aneurysm; likewise, graft conduits may become aneurysmatic from pseudo-aneurysm formation related to cannulation. This module explores in detail the pathophysiology of VA remodeling and maturation and the underlying reasons for aneurysm formation, the definitions of aneurysms and their classification and investigation and management strategies.
MODULE 11. Complex Dialysis Access Case Reports
This module consists of 16 clinical cases that explore the complexity of dialysis access decision-making. Making appropriate treatment decisions depends on a number of patient factors. Equally important considerations include the dialysis access team's skill sets, training biases, institutional support and resources. The purpose of this module is to consider a series of case studies in which variables are presented and navigating to the best solution for the patient in any given situation.
MODULE 12. CPT and ICD-10 Coding for Dialysis Access (Only for the US Audience)
The key two items for physicians coding and billing for services rendered to patients of kidney dialysis are 1) coding compliance and 2) documentation reflecting the patient's severity of illness. The clinical decision making with the appropriate treatment plan protocol documentation is reflected to the insurance payer only through the ICD-10 diagnostic codes and the CPT procedure codes. This module provides coding compliance advice along with key documentation requirements that will keep the provider ahead of the insurance denial pathway.
MODULE 13 – Dialysis Access Catheters
Prolonged catheter use induces major co-morbid conditions for the patient and affects surgeons, oncologists, nephrologists, radiologists, pediatricians and cardiologists alike. The use of central vein catheters for dialysis treatments is the main culprit for thoracic central vein obstruction (TCVO). New tools and ways to manage TCVO are often effective and lifesaving, but also heroic and dangerous. This module reports the various techniques of dialysis catheter placement and the strong correlation between catheter contact time (CCT) and TCVO.
MODULE 14. Cannulation and Dialysis Delivery
Repeated cannulation of the vasculature is required for hemodialysis (HD), commonly referred to as a patient's lifeline. The options for vascular access (VA) include the arteriovenous fistula (AVF), the arteriovenous graft (AVG), and the central venous catheter (CVC). The ability to effectively use these modalities of VA depends on the access itself, the "cannulators", and the patient. This module provides comprehensive, updated algorithms of cannulation techniques of dialysis in an easily readable and understandable presentation designed for a global audience resulting in a recognizable (i.e. CME, CEU, etc.) qualification. The reader will also gain insight to help optimize the practice and to reduce complications to benefit patients and society.
Module 15. Ultrasound in Dialysis Access
Ultrasound (US) in Dialysis Access is a key tool in the access planning, assessment of maturation, diagnostics and, in some cases, treatment. Guidelines all recommend the use of US as a routine part of AV access care, and can be delivered by a trained coordinator, surgeon, nephrologist, or by a dedicated vascular access (VA) sonographer or vascular lab. Vascular mapping, assessment of maturation, and basic diagnostics are core skills for those healthcare professionals in the access clinic. US, being non-invasive and not requiring contrast, is the 1st line investigation for vascular access dysfunction.
| Access Date | Quiz Result | Score | Actions |
| --- | --- | --- | --- |