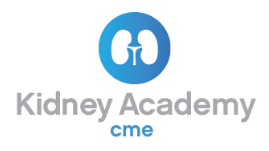 Module 4: Native Vein Arteriovenous Fistulae (AVF) for Dialysis Access
EXPIRED

CME credits for this course are not currently available. You can still view the content.

Dates available 11/18/2020 - 11/18/2021

"This activity is jointly provided by Global Education Group and Kidney Academy."


This activity is supported by educational grants from Avenu Medical, BD (Becton, Dickinson and Company), and Medtronic.
Target Audience
The educational design of this activity addresses the needs of physicians and adjunct health care professionals (e.g. nurses, technologists) who treat kidney disease. Content is relevant to transplant surgeons, radiologists, nephrologists, and vascular surgeons.
Statement of Need/Program Overview
This module outlines basic principles for native vein AVFs. The wrist radio-cephalic anastomosis is described in detail as the surgical techniques are similar for different sites. Strict principles and meticulous practice of vascular surgical technique are paramount for success by in arteriovenous fistulas as patients are at high risk of uremia and renal failure associated comorbidity. While failure of an AVF may not be limb threatening as in other areas of vascular surgery the implications of a failed fistula may be wide reaching, particularly in younger patients adjusting to a lifetime of chronic disease. These techniques are covered in detail with short videos illustrating various anastomosis techniques.
Recent remarkable endovascular innovations have developed two minimally invasive procedures to create AVF fistula using one or two catheter techniques, respectively. Preliminary reports claim near 100 % technical success and a maturation rate in the 80-90 % range. This evolving technology has the potential to revolutionize hemodialysis access.
Educational Objectives
After completing this activity, the participant should be better able to:
Explain the need for an integrated patient-centric model and functional infrastructure to manage RRT patients.

Recognize the value of an outcomes tracking system to assess performance and improvement.

Explain the function of ultrasound vascular mapping.

Describe vascular anatomy for selection of vessels appropriate for AVF.

Define atraumatic surgical techniques required to minimize initial hyperplasia such as juxta-anatomical stenosis.

Describe the benefits of an arteriovenous fistula in appropriately selected patients.

List the various types and selection of operative sites.

Identify the characteristics for a successful or mature arteriovenous fistula.

Identify the optimal time for arteriovenous fistula creation appropriate specialist referral path.

Describe the basic principles for evaluating a patient's suitability for AVF, including physical exam and preoperative mapping with ultrasound.

Discuss the lesions associated with early arteriovenous fistula failure.

Outline principles in the evaluation of newly placed arteriovenous fistula to predict maturation.

Discuss the treatment of early arteriovenous fistula failure.

Describe the lesions associated with late fistula failure.

Outline fistula pathology, including high blood flow cardiac impact and implications of excessive blood flow management in an AVF.

Explain aneurysm formation and how to prevent them through proper cannulation techniques.

Describe the recently approved innovations for endovascular placement of AVFs.

Describe the value of simulation training and opportunities available for AVF.
Faculty
Ingemar Davidson, MD, PhD, FACS
A native of Sweden, focusing in organ procurement, organ transplantation, and dialysis access in end stage renal disease patients, with published educational books on these topics.
Gerald Beathard, MD, PhD
Founding member and the first president of the American Society of Diagnostic and Interventional Nephrology (ASDIN).
Nicholas Inston, MD, PhD
Transplant and dialysis access surgeon and clinical leader for Transplant Links, a charity organization providing hands-on training in kidney transplantation for surgeons, doctors and nurses in low/middle-income countries.
John Ross, MD
Founder of the Dialysis Access Institute (DAI), specializing in innovative approaches to dialysis access using the latest devices, techniques, and technology.
Jan Swinnen, MD
Vascular Surgeon / Dialysis Access Specialist at Westmead Hospital in Sydney, Australia. He is a qualified Sonographer (DDU Vascular) and runs the Westmead Vascular Ultrasound Lab. He is Professor of Surgery at Sydney University and has an interest in clinical research.
Program Agenda
Pre Test
Overview of AVF
Atraumatic Technique and Surgical Instruments
Surgical Techniques – Tips and Tricks for Wrist AVF
Basilic Vein Transposition Procedures
One Stage Basilic Vein Transposition Video Presentation
Complications of AVF
Endovascular Technique for Creating AVFs
Training in Dialysis Access
Summary
Post Test
Survey
Certificate
Physician Accreditation Statement
This activity has been planned and implemented in accordance with the accreditation requirements and policies of the Accreditation Council for Continuing Medical Education (ACCME) through the joint providership of Global Education Group (Global) and Kidney Academy. Global is accredited by the ACCME to provide continuing medical education for physicians.
Physician Credit Designation
Global Education Group designates this enduring activity for a maximum of 3.0 AMA PRA Category 1 Credits™. Physicians should claim only the credit commensurate with the extent of their participation in the activity.
Term of Offering
This activity was released on 10.15.20 and is valid for one year. Requests for credit must be made no later than 10.15.20.
Global Contact Information
For information about the accreditation of this program, please contact Global at 303-395-1782 or cme@globaleducationgroup.com.
Instructions to Receive Credit
To receive credit for this activity, the participant must complete all sections and pass the post-test with at least 70% (11/15) questions answered correctly. The certificate will be available to download or print upon successful completion of the course material.
System Requirements
Fee Information& Refund/Cancellation Policy
There is a $150 fee for this educational activity.
Disclosure of Conflicts of Interest
Global Education Group (Global) requires instructors, planners, managers and other individuals and their spouse/life partner who are in a position to control the content of this activity to disclose any real or apparent conflict of interest they may have as related to the content of this activity. All identified conflicts of interest are thoroughly vetted by Global for fair balance, scientific objectivity of studies mentioned in the materials or used as the basis for content, and appropriateness of patient care recommendations.
The faculty reported the following financial relationships or relationships to products or devices they or their spouse/life partner have with commercial interests related to the content of this CME activity:
| Name of Faculty or Presenter | Reported Financial Relationship |
| --- | --- |
| Ingemar Davidson | Nothing to disclose |
| Gerald Beathard | Nothing to disclose |
| Nick Inston | Consultant/independent contractor: BD Bard/Merit Medical.Honoraria, Speaker's Bureau and Advisory Board: BD Bard |
| John Ross | Consultant/independent contractor: WL Gore, BD Bard, Medtronic, Boston Scientific, Merit, Innavasc, Biotechs Medical, Phraxis Flex, and Nipro. |
| Jan Swinnen | Nothing to disclose |
The planners and managers reported the following financial relationships or relationships to products or devices they or their spouse/life partner have with commercial interests related to the content of this CME activity:
| Name of Planner or Manager | Reported Financial Relationship |
| --- | --- |
| Lindsay Borvansky | Nothing to disclose |
| Andrea Funk | Nothing to disclose |
| Liddy Knight | Nothing to disclose |
| Ashley Cann | Nothing to disclose |
| Therese Wykoff | Nothing to disclose |
Disclosure of Unlabeled Use
This educational activity may contain discussion of published and/or investigational uses of agents that are not indicated by the FDA. Global Education Group (Global) and Kidney Academy do not recommend the use of any agent outside of the labeled indications.
The opinions expressed in the educational activity are those of the faculty and do not necessarily represent the views of any organization associated with this activity. Please refer to the official prescribing information for each product for discussion of approved indications, contraindications, and warnings.
Disclaimer
Participants have an implied responsibility to use the newly acquired information to enhance patient outcomes and their own professional development. The information presented in this activity is not meant to serve as a guideline for patient management. Any procedures, medications, or other courses of diagnosis or treatment discussed in this activity should not be used by clinicians without evaluation of patient conditions and possible contraindications on dangers in use, review of any applicable manufacturer's product information, and comparison with recommendations of other authorities.
Key:

Complete

Next

Failed

Available

Locked
15 Questions | 1 attempt | 0/15 points to pass
15 Questions | 1 attempt | 0/15 points to pass
SECTION 3: OVERVIEW OF AVF
SECTION 4: ATRAUMATIC TECHNIQUE AND SURGICAL INSTRUMENTS
SECTION 5: SURGICAL TECHNIQUE - TIPS AND TRICKS FOR THE WRIST AVF
SECTION 6: BASILIC VEIN TRANSPOSITION (BVT) PROCEDURES
SECTION 7: ONE STAGE BASILIC VEIN TRANSPOSITION VIDEO PRESENTATION
SECTION 8: COMPLICATIONS OF AVF
SECTION 9: ENDOVASCULAR TECHNIQUE FOR CREATING AVFs
SECTION 10: TRAINING IN DIALYSIS ACCESS
SECTION 11: SUMMARY OF MODULE 4 ON NATIVE VEIN AV FISTULA
SECTION 12: ADDITIONAL REFERENCES
Open to download resource.
Open to download resource.
Expanded references for Module 4: AVF is provided by Gerald A Beathard, MD, PhD.
15 Questions | Unlimited attempts | 11/15 points to pass
15 Questions | Unlimited attempts | 11/15 points to pass
SECTION 14: POST MODULE SURVEY
10 Questions
SECTION 15: PRINT CERTIFICATE
No credits available | Certificate available
No credits available | Certificate available
| Access Date | Quiz Result | Score | Actions |
| --- | --- | --- | --- |