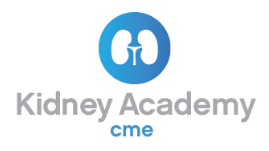 Module 6: Peritoneal Dialysis
Dates available 1.18.2021 – 1.18.2022

"This activity is jointly provided by Global Education Group and Kidney Academy."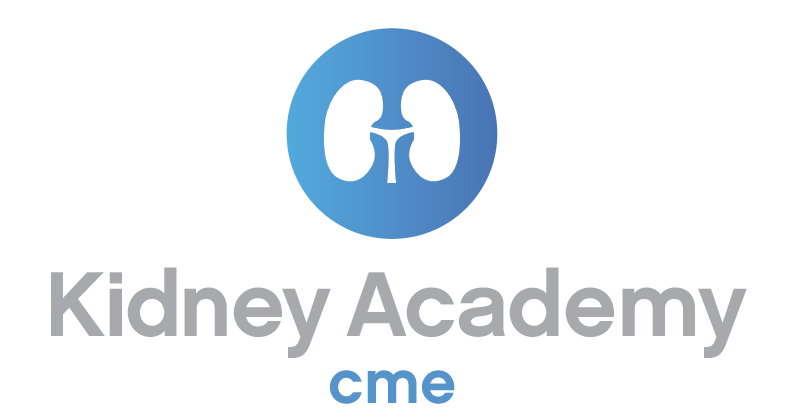 This activity is supported by an educational grant from Medtronic.
Target Audience
The educational design of this activity addresses the needs of physicians and adjunct health care professionals (e.g. nurses, technologists) who treat kidney disease. Medical specialties addressed are relevant to transplant surgeons, radiologists, nephrologists, and vascular surgeons.
Statement of Need/Program Overview
End stage renal disease (ESRD), specifically dialysis access, is a complicated condition treated by a variety of medical specialists with varied perspectives and skill sets. Population growth predictions suggest that the burden of providing maintenance dialysis in coming decades will be daunting. Access to reliable and applicable training in ESRD / dialysis access is limited, and significant treatment protocol disparity exists globally among professionals. The specialties performing dialysis access are fragmented into siloed societies with limited opportunity to understand the viewpoints of the other specialties serving the same patient. There is a significant need for a comprehensive foundational training program focused specifically on dialysis access. By offering education and training in dialysis access in general, and in this specific module about PD, knowledge can be standardized among providers, resulting in sound patient-centric decision making resulting in improved patient outcomes.
There is a wide GLOBAL variation in the Peritoneal Dialysis Utilization because of a lack of understanding of the PD Benefits and best patient selection at the appropriate timepoint in their care continuum. Training will increase the understanding for all members of the dialysis access care team when treating patients to ensure the best possible treatment outcomes. Physicians need training related to the value of an integrated patient-centric model of dialysis delivery where all modes of RRT are considered in an individualized "Patient Life Plan"- centered pathway. Related to this, members of the dialysis team lack the understanding of the value of a functional infrastructure to manage PD patients and the value of tracking results over time to assess performance and progress. Physicians lack clear guidelines on how identify PD as an appropriate mode of Renal Replacement Therapy and when to recommend this mode to a patient. Related to this, there is a need for awareness of how and when PD can be employed to provide urgent dialysis care. Physicians need additional training in the types of PD and how to select the appropriate PD mode based on patient criteria. Knowledge gaps exist related to the criteria to appropriately select the optimal technique for PD catheter placement. More training is needed for physicians to master proper techniques when placing PD catheters and management of PD catheters. Knowledge gaps exist related to the fundamentals of prescribing a dialysate prescription and customizing prescription parameters based on patient status. Additional training is needed to improve the ability to identify risks of PD and manage complications over sustained PD treatment. The treatment team needs training to gain awareness of the reasons why patients self-elect to discontinue PD and strategies that are effective to enable patient to continue on PD. Education is needed to improve the knowledge of the methods to monitor appropriate clearance of the PD patient and clear understanding for indications when to change from PD to HD as mode of RRT. Lastly, physicians need education in upcoming innovations related to PD.
Educational Objectives
After completing this activity, the participant should be better able to:
Explain the need for an integrated patient-centric model and functional infrastructure to manage PD patients, and the value of an outcomes tracking system to assess performance and improvement.
Define the role of PD and its potential to impact long-term patient outcomes in the treatment continuum and the appropriate timepoint to recommend this modality.
Distinguish the benefits of PD (i.e., improved outcomes) over HD in select patients at the appropriate timepoint in the patient's treatment.
Describe how and when PD can be used to provide urgent dialysis care.
Identify the 3 types of PD: Continued Ambulatory PD (CAPD), Continuous Cycling PD (CCPD) or Automated PD (APD).
Identify the specific patient considerations that related to each of these PD modes.
Identify the currently available technology for each of these PD modes.
List the parameters to appropriately select the optimal techniques when placing PD catheters.
Describe the surgical techniques of open, laparoscopic, and percutaneous placement techniques of PD catheters.
Describe the fundamentals of a dialysate prescription and how to customize prescription parameters based on patient status.
Identify risks associated with PD.
List strategies to prevent and manage PD complications.
List top reasons for PD dropout and strategies to avoid them.
Describe methods for monitoring for appropriate clearance and recommendations for when it is appropriate to switch to HD.
List upcoming innovations in PD therapy.
Faculty
Ingemar Davidson, MD, PhD
Founder of Kidney Academy. Founder and Co-Director of CiDA (Controversies in Dialysis Access). Focusing on organ procurement, organ transplantation, and dialysis access in end stage renal disease patients, with published educational books on these topics.
Gerald Beathard, MD, PhD
Founding member and the first president of the American Society of Diagnostic and Interventional Nephrology (ASDIN).
John H. Crabtree, MD
Dr. Crabtree is a general surgeon and the Chairperson for PD University for Surgeons in North America, part of a global education effort sponsored by the International Society for Peritoneal Dialysis (ISPD).
Maurizio Gallieni, MD
In the field of dialysis access, Dr. Gallieni, a nephrologist in Milan Italy, is the Coordinating Editor of the Journal of Vascular Access, a leading publication in the field. He has been involved with the Vascular Access Society since 2009 (President, 2013-2015). He is an advocate of peritoneal dialysis.
Behram Khan, MD
Director of Medical Services, NKF Singapore. Senior Consultant, National Univ Hosp Singapore. Asst Professor, National Univ Singapore. Dr. Khan is an interventional nephrologist and participates in both direct patient care and Kidney Health Advocacy programs in Singapore.
Nicholas Inston, MD, PhD
Transplant and dialysis access surgeon and clinical leader for Transplant Links, a charity organization providing hands-on training in kidney transplantation for surgeons, doctors, and nurses in low-income countries.
Mohamed Sheta, MD
Interventional Nephrologist in Houston, TX. Dr. Sheta is interested in access related cardiac complications. He serves on the ASDIN educational committee.
Jan Swinnen, MD
Vascular Surgeon and a Dialysis Access Specialist at Westmead Hospital in Sydney, Australia. He is a certified Sonographer (DDU Vascular) and runs the Westmead Vascular Ultrasound Lab. He is Professor of Surgery at Sydney University and involved in clinical research.
Program Agenda
Introduction
Pre-Test
Overview of PD
A PD Access Algorithm
Types and Characteristics of PD Catheters & Tools for Repair
Salvage kits for Broken PD Catheters
Operating Room Safety
Operating Technique of PD Catheter Placement
Laparoscopic Placement Technique
Open Placement of PD Catheter
Percutaneous Catheter Insertion
Complications with PD
Summary & Take Away Points
Post-Test
Survey
Certificate
Physician Accreditation Statement
This activity has been planned and implemented in accordance with the accreditation requirements and policies of the Accreditation Council for Continuing Medical Education (ACCME) through the joint providership of Global Education Group (Global) and Kidney Academy. Global is accredited by the ACCME to provide continuing medical education for physicians.
Physician Credit Designation
Global Education Group designates this enduring activity for a maximum of 6.0 AMA PRA Category 1 Credits™. Physicians should claim only the credit commensurate with the extent of their participation in the activity.
Term of Offering
This activity was released on 1.18.2021 and is valid for one year. Requests for credit must be made no later than 1.18.2022.
Global Contact Information
For information about the accreditation of this program, please contact Global at 303-395-1782 or cme@globaleducationgroup.com.
Instructions to Receive Credit
To receive credit for this activity, the participant must complete all sections and pass the post-test with at least 70% (11/15) questions answered correctly. The certificate will be available to download or print upon successful completion of the course material.
System Requirements

Fee Information & Refund/Cancellation Policy
There is a $150 fee for this educational activity. Requests for program cancellations and refunds must be made by 1.18.2022.
Disclosure of Conflicts of Interest
Global Education Group (Global) requires instructors, planners, managers and other individuals and their spouse/life partner who are in a position to control the content of this activity to disclose any real or apparent conflict of interest they may have as related to the content of this activity. All identified conflicts of interest are thoroughly vetted by Global for fair balance, scientific objectivity of studies mentioned in the materials or used as the basis for content, and appropriateness of patient care recommendations.
The faculty reported the following financial relationships or relationships to products or devices they or their spouse/life partner have with commercial interests related to the content of this CME activity: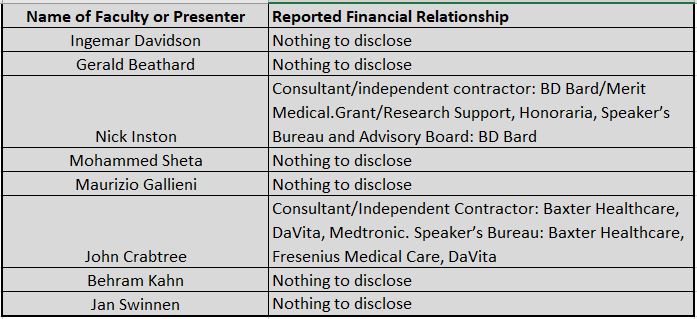 The planners and managers reported the following financial relationships or relationships to products or devices they or their spouse/life partner have with commercial interests related to the content of this CME activity:
Disclosure of Unlabeled Use
This educational activity may contain discussion of published and/or investigational uses of agents that are not indicated by the FDA. Global Education Group (Global) and Kidney Academy do not recommend the use of any agent outside of the labeled indications. The opinions expressed in the educational activity are those of the faculty and do not necessarily represent the views of any organization associated with this activity. Please refer to the official prescribing information for each product for discussion of approved indications, contraindications, and warnings.
Disclaimer
Participants have an implied responsibility to use the newly acquired information to enhance patient outcomes and their own professional development. The information presented in this activity is not meant to serve as a guideline for patient management. Any procedures, medications, or other courses of diagnosis or treatment discussed in this activity should not be used by clinicians without evaluation of patient conditions and possible contraindications on dangers in use, review of any applicable manufacturer's product information, and comparison with recommendations of other authorities.
Key:

Complete

Next

Failed

Available

Locked